Intent-based networking built on Cisco DNA
Cisco Digital Network Architecture (Cisco DNA)
It's all about an intent-based network that continuously bridges the gap between business and IT. It's the new era in networking, built on Cisco DNA.
Cisco DNA takes a software-delivered approach to automating and assuring services across your campus, WAN, and branch networks. Based on an open and extensible platform, Cisco DNA allows you to build value on the network, so you can streamline operations and facilitate IT and business innovation.
Solutions that matter for your organization
Discover the top 6 reasons to choose Cisco DNA. See our industry design guides.
Provide business agility and scale by automating one policy across the entire access network.
SD-Access
SD-Access Services
Assure network performance
Troubleshoot faster and increase IT productivity with context that delivers actionable insights.
Cisco DNA Center
Cisco DNA Assurance
Detect and mitigate threats
Address threats and vulnerabilities anywhere on your network–including those hiding in encrypted traffic.
Cisco DNA Security
SD-WAN Security (new)
Security Services
Optimize application experience
Securely connect any user to any cloud with the desired application experience–every time.
Cisco Umbrella is the solution.
As the industry's first Secure Internet Gateway in the cloud, Cisco Umbrella provides the first line of defense against threats on the internet. Because Umbrella is delivered from the cloud, it is the easiest way to protect all of your users in minutes.
Still being infected by malware? We're not surprised.
Your Users
Your users connect from many locations and devices. They no longer need the VPN to get work done — they use cloud services. What if you had a fast, easy way to protect users anywhere they access the internet?
Your Threats
Threats continue to increase in sophistication but attackers often reuse the same infrastructure in multiple attacks — leaving cyber fingerprints. What if you could use those fingerprints to uncover attacks before they launch?
create powerful cloud-managed IT solutions

Enterprise-class performance, managed from the cloud for faster deployment, simplified administration, and richer visibility
The Cisco Meraki wireless solution includes a complete, robust feature set right out of the box. No additional purchase required.
High Efficiency Wireless
Cisco Meraki access points are built from the highest grade components and carefully optimized for a seamless user experience. The outcome: faster connections, greater user capacity, more coverage, and fewer support calls.
Dedicated Security Radio
In addition to the high-power 2.4 GHz and 5 GHz client-service radios, most Meraki APs also include a dedicated security radio that:
Continuously scans and protects against security threats
Senses the RF environment and adapts to interference
Automatically configures RF settings to maximize performance
Built for Performance
Enterprise-class Wi-Fi 6 (802.11ax) access points feature high power radios and enhanced receive sensitivity. Technologies like OFDMA, MIMO, and integrated beamforming maximize capacity without sacrificing range.
Up to 8 transmit and 8 receive antennas for enhanced performance and better coverage
Multigigabit Ethernet for up to 5 Gbps over a single existing cable
Custom RF design supports high client density environments
Unmatched Visibility
Meraki access points provide deep network insight enabling smarter network management.
The Cisco Meraki dashboard gives visibility into the network users, their devices, and their applications. Armed with rich analytics, administrators can quickly create access control and application usage policies, optimizing both the end-user experience and network security.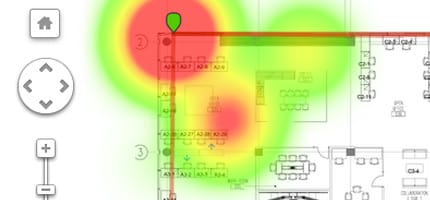 The Entire Network Under a Single Pane of Glass
Powerful and intuitive multi-site management via the cloud, while eliminating the cost and complexity of traditional on-site wireless controllers.
The industry's only end-to-end solution which unifies WAN, LAN, wireless LAN, and mobile device management under a single pane of glass.