Future ready cybersecurity for enterprise
30 years of continuous technology innovation
Deploy ESET's unique multilayered, cloud-augmented technologies – the most advanced malware protection on the market – developed in 13 R&D centers worldwide.​​​​​​​
LiveGrid®
ESET LiveGrid® is a preventative system that gathers information about threats from ESET users around the world. The LiveGrid® database contains reputation information about potential threats, detects and blocks recently introduced threats making it highly effective against rapidly changing threats.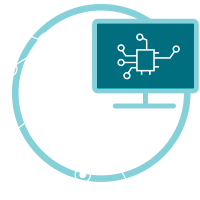 Machine Learning
ESET's in-house machine learning engine uses the combined power of neural networks (deep learning and long short-term memory) and handpicked algorithms to generate a consolidated output and correctly label incoming samples as clean, potentially unwanted or malicious.
Human Expertise
Our World-class security researchers in 13 globally distributed R&D centers share our elite know-how and intelligence to ensure the best round-the-clock threat intelligence. Read their expert analysis of cybersecurity news in our corporate blog and in welivesecurity.com.
Why enterprises appreciate ESET security solutions
Multi-platform solutions for all OSes

Outstanding coverage of Windows, macOS, iOS, Android, Lotus Domino & Linux

Quality technical 
support

24/7 local and reliable assistance round the globe in your language

Signature light 
footprint
3rd party tests prove lightweight on performance & lowest impact on network

Effortless implementation. Single pane of glass, one-click management for all products

Multilayered technology assures best detection rates and minimal false positives
Enterprise grade solutions
Endpoint detection and response + Cloud sandboxing
This endpoint detection and response tool leverages ESET's multilayered Endpoint Protection Platform. All layers send relevant data to ESET Enterprise Inspector, which analyzes vast amounts of real-time endpoint data. Provides quick analysis and remediation of any security issue in the network, enabling organizations to:
Provides another layer of security for ESET products like Mail Security and endpoint products by utilizing a cloud-based sandboxing technology to detect new, never before seen types of threats. Future-proof your company's IT security with, Behavior-based detection, Machine learning, Zero-day threats detection and Cloud sandboxing
Bundled solutions for enterprise
Fits all security requirements. Flexible and scalable to any IT environment
Comprehensive, easily managed protection, incorporating off-premise cloud sandboxing leveraging machine learning and behavior-based detection. Includes:
Security Management Center
Endpoint Protection Platform
Cloud Sandbox Analysis
Multilayered protection utilizing multiple technologies and incorporating visibility management and reporting across all operating systems. Includes:
Security Management Center
Endpoint Protection Platform
Business solution incorporating antispam, anti-phishing and Cloud Sandbox Analysis for the complete protection of mailboxes and mail servers. Includes:
Security Management Center
Cloud Sandbox Analysis
Mail Security
Business solution for superior and enhanced protection of an organization's data and intellectual property. Includes:
Two-factor Authentication
Endpoint Encryption